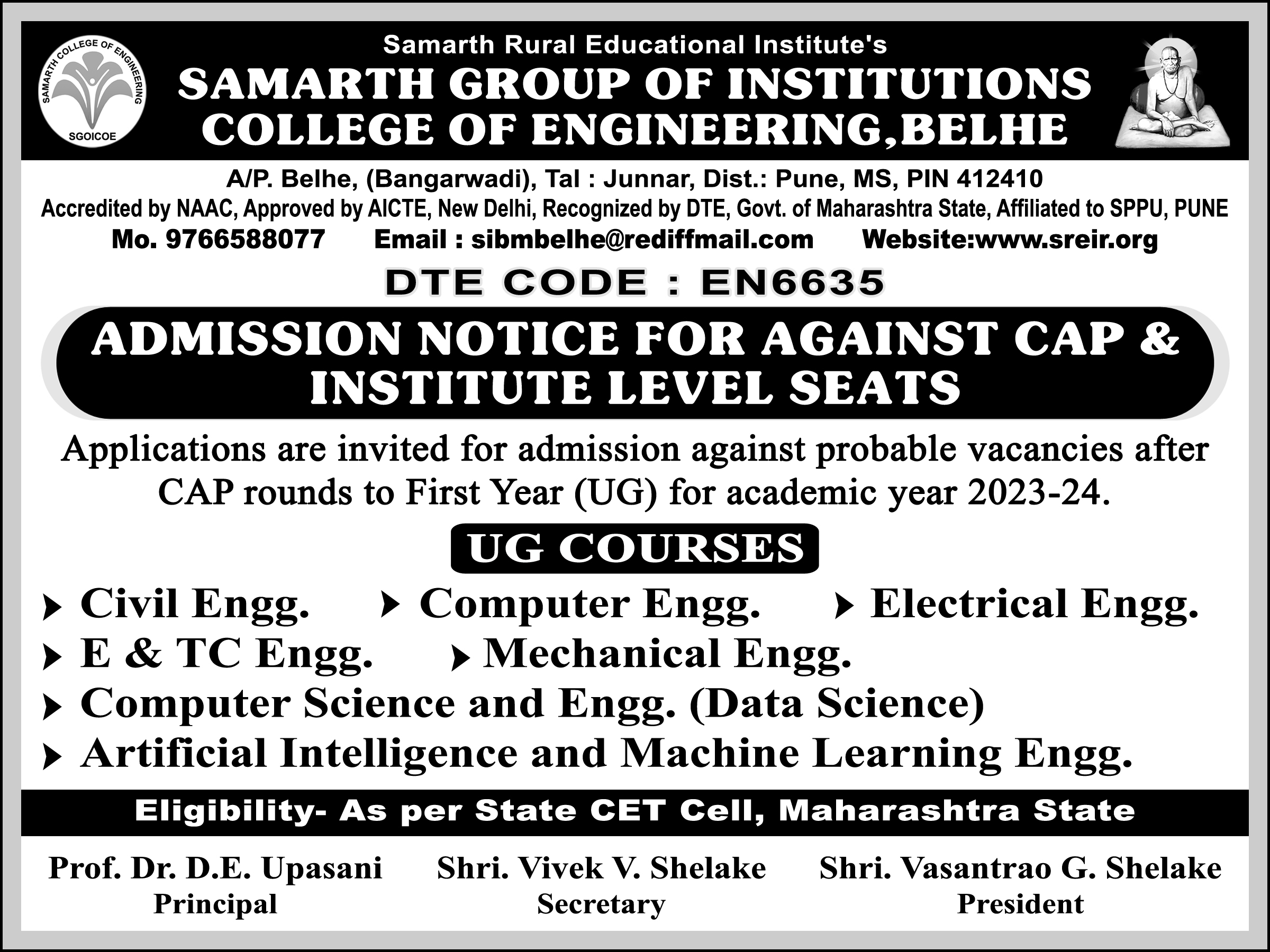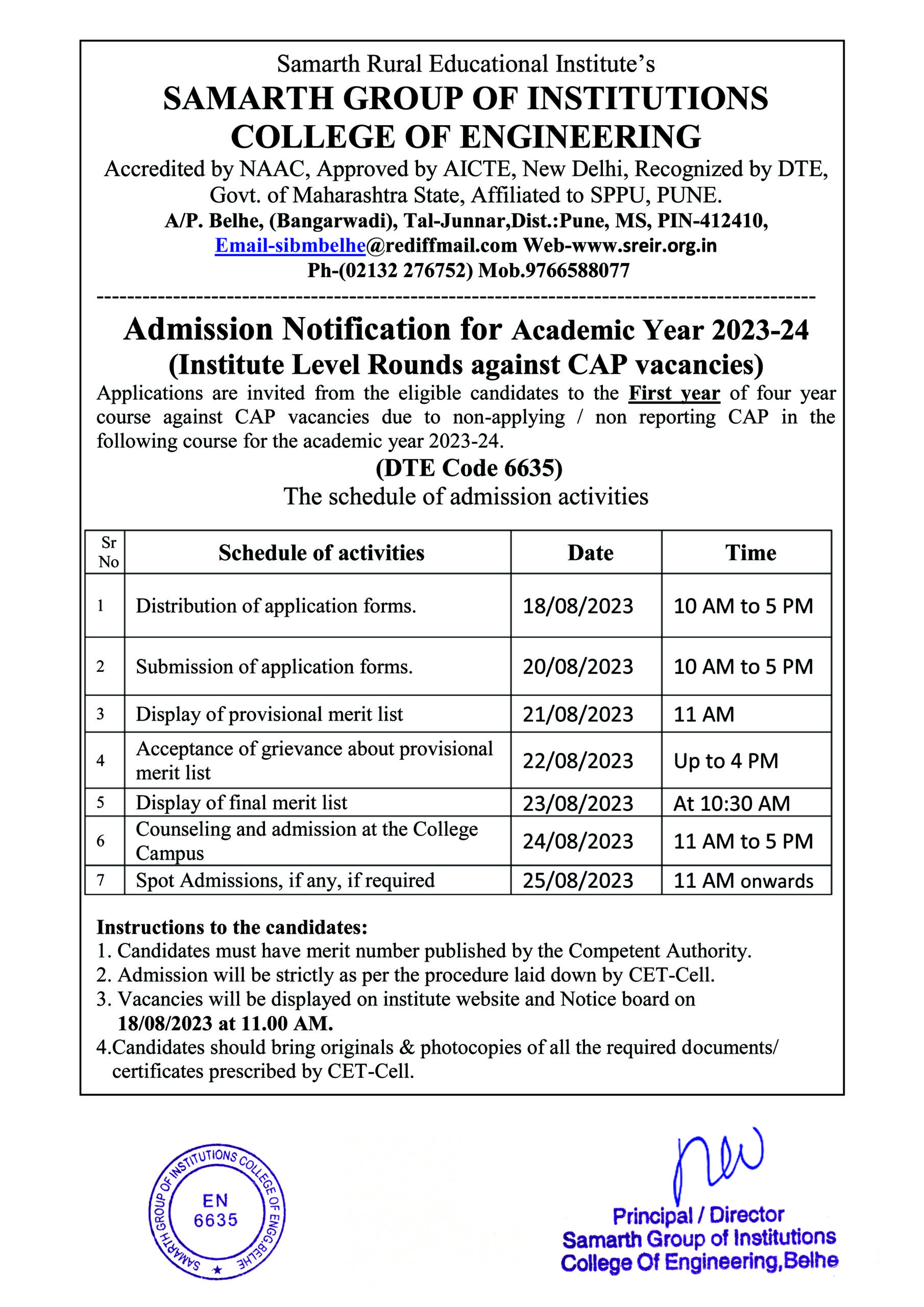 ADMISSION PROCESS
Government Seats :
Admission process for Government quota seats will be carried out as per the schedule declared the Director Technical Education, Mumbai (Maharashtra State) From time to time. Students should refer the web site of Directorate of Technical Education, Maharashtra State www.dte.org.in
Institute Level Seats :
The Detailed admission process for institute level candidate will be declared from the Director Technical Education, Maharashtra State all the relevant details for institute /minority candidates will be displayed on college notice board & on college web site (www.spvp.edu.in)& for admission on such seats the advertisement will be given in leading news paper from time to time.
All above seats will be filed by institute strictly on merit basis at institute level.
Seats Remaining Vacant After CAP Round & Institute Level Seats :
Admission process for the seats remaining vacant after CAP round & institute level round carried out separately. Schedule will be displayed on the Notice board as well on the web site institute. for admission on such seats the advertisement will be given in leading news paper from time to time .
All such seats will be filled by institute strictly on merit basis at institute level.As per the directives of Maharashtra Directorate of Technical Education (DTE)
DOCUMENTS REQUIRED
Following documents & certificates in original with 5 sets of attested photocopies and Passport size color photograph (5 copies) are required to be submitted at the time admission.Government Quota :
CET/JEE Scorecard issued by competent Authority.
Admit Letter issued by DTE, Mumbai.
SSC Mark sheet issued by Secondary and Higher Secondary Board.
HSC Mark sheet issued by Secondary & Higher Secondary Board.
Diploma Mark sheet from Technical Board of Maharashtra.
Leaving Certificate or Transfer Certificate issued by School/College.
Passing Certificate of HSC issued by Technical Examination Board.
Certificate of Date of Birth, if it is not mentioned on the school or institute Leaving certificate.
Domicile certificate of the father/mother where and as applicable.
Certificate of Indian Nationality.
Income certificate of Father / Mother.
Migration Certificate in case of OMS Candidates.
District Transfer Certificate.
Affidavit regarding GAP (if any) on stamp paper of Rs.100/- in front of Executive Magistrate.
Cast certificate except General category candidate issued by Executive Magistrate.
Cast Validity Certificate except General category candidate issued by Director / Deputy Director, Tribe Scrutiny officer, Committee of respective region.
Non Creamy Layer Certificate (for OBC, VJ/DT-NT(A), NT(B), NT(C), NT(D), SBC) issue sub Divisional Officer, Deputy Collector / Collector of District.
Requisite certificate from the competent Authorities in the case of candidates claiming the children of Armed forces personal transferred to Maharashtra state together with the order of father along with Proforma-I / Proforma-C as applicable.
Transfer order in the case of children of Central government or if any.
Certificate in the case of candidate claiming to be son/ daughter of freedom fighter, of wife or child or adopted child or step child, or grandchild.
Prescribed certificate of being physically handicapped if any.
Prescribed certificate of participation in Inter-institutional sports, Games, debates, Drama competitions.
Medical certificate of Physical fitness.
Details of students saving bank Account in Nationalized Bank Only(A/c No., Branch name, Branch code, Branch IFSC code, Branch MICR code)
Previous Scholarship received / Sanction letter.
Any other Document prescribed by DTE Mumbai, MHT-CET brochure or the University from time to time.
Institute Quota :
CET/JEE Scorecard issued by competent Authority
SSC Mark sheet issued by Secondary and Higher Secondary Board.
HSC Mark sheet issued by Secondary and Higher Secondary Board.
Diploma Mark sheet from Technical Board of Maharashtra..
Income certificate of Father / Mother.
Leaving Certificate or Transfer Certificate issued by School/College.
Passing Certificate of HSC issued by Technical Examination Board.
Certificate of Date of Birth, if it is not mentioned in the school or institute Leaving certificate.
Domicile certificate of the father/mother where and as applicable.
Certificate of Indian Nationality.
Migration Certificate in case of OMS Candidates.
Affidavit regarding GAP(if any) on stamp paper of Rs.100/- in front of Executive Magistrate.
Details of students saving bank Account in Nationalized Bank Only(A/c No., Branch name, Branch code, Branch IFSC code, Branch MICR code)